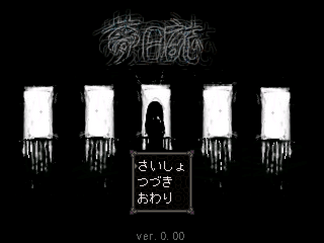 Welcome to the Yume Nisshi Wiki
This is a wiki about the Yume Nikki fangame Yume Nisshi, one of MANY fangames. If you're unfamiliar with Yume Nikki, you can learn a bit about the game and how to download it at its wiki.
Knowledge of this game is sparse, so please contribute whatever you can! Things like walkthroughs, maps, effects, pictures and downloads of the game would be especially helpful.
Feel free to name Locations differently to fit the feel of the area better. You can also feel free to comment or change any Character's name (besides Usotsuki). Most names of places and characters are fan given and can easily be put up for debate.
About
Yume Nisshi is currently at version 0.03 with 18 effects and no ending as of yet.
Controls
Arrow keys - walk, navigate menu
X/Esc - Open/close menu
Z - Interact/choose commands in menu
Shift(hold) - Activate effect
Downloads
Helpful Sites and Resources
Because it's better to work with others on something we have no idea about.
Latest activity
Talk:White Plains
new comment by A FANDOM user

| | |
| --- | --- |
| Comment: | I'm confused. I found something in the white plains, but I don't seem to see any mention of it either here, or in the yume nikki fangame wiki page.... |

Talk:Usotsuki
new comment by A FANDOM user

| | |
| --- | --- |
| Comment: | Ya know, I have a theory that Usotsuki may be the predator rather then the prey. Her name means liar. So maybe her appearence is just a lie. |