Line 3:
Line 3:
 

This is a wiki about the Yume Nikki fangame Yume Nisshi, one of MANY fangames. If you're unfamiliar with Yume Nikki, you can learn a bit about the game and how to download it at its [http://yumenikki.wikia.com/wiki/Yume_Nikki_Wiki wiki].

 

This is a wiki about the Yume Nikki fangame Yume Nisshi, one of MANY fangames. If you're unfamiliar with Yume Nikki, you can learn a bit about the game and how to download it at its [http://yumenikki.wikia.com/wiki/Yume_Nikki_Wiki wiki].

 
 
−

Knowledge of this game is sparse, so please contribute whatever you can! Things like walkthroughs, maps, effects, and downloads of the game would be especially helpful.

+

Knowledge of this game is sparse, so please contribute whatever you can! Things like walkthroughs, maps, effects, and downloads of the game would be especially helpful.

 
 
 

==About==

 

==About==
---
Revision as of 01:34, 15 November 2011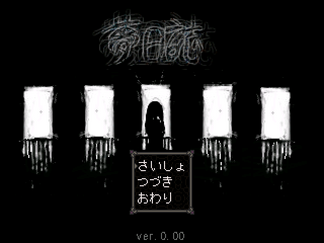 Welcome to the Yume Nisshi Wiki
This is a wiki about the Yume Nikki fangame Yume Nisshi, one of MANY fangames. If you're unfamiliar with Yume Nikki, you can learn a bit about the game and how to download it at its wiki.
Knowledge of this game is sparse, so please contribute whatever you can! Things like walkthroughs, maps, effects, and downloads of the game would be especially helpful. Also, feel free to name Locations differently to fit the feel of the area better.
About
Yume Nisshi is currently at version 0.02 with 16 effects and no ending.
Controls
Arrow keys - walk, navigate menu
X/Esc - Open/close menu
Z - Interact/choose commands in menu
Shift(hold) - Activate effect
Downloads
Helpful Sites and Resources
Because it's better to work with others on something we have no idea about.
Latest activity