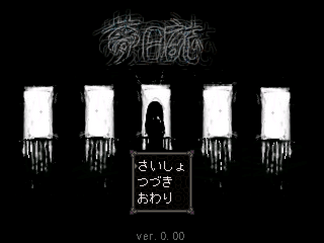 Welcome to the Yume Nisshi Wiki
This is a wiki about the Yume Nikki fangame Yume Nisshi, one of MANY fangames. If you're unfamiliar with Yume Nikki, you can learn a bit about the game and how to download it at its wiki.
Knowledge of this game is sparce, so please contribute whatever you can! Including walkthroughs, difficult maps, effects (and how to get them), and new downloads of the game.
About
Yume Nisshi is currently at version 0.02 with 16 effects and no ending.
Downloads
Helpful Sites and Resources
Because it's better to work with others on something we have no idea about.
Latest activity
Talk:White Plains
new comment by A FANDOM user

| | |
| --- | --- |
| Comment: | I'm confused. I found something in the white plains, but I don't seem to see any mention of it either here, or in the yume nikki fangame wiki page.... |

Talk:Usotsuki
new comment by A FANDOM user

| | |
| --- | --- |
| Comment: | Ya know, I have a theory that Usotsuki may be the predator rather then the prey. Her name means liar. So maybe her appearence is just a lie. |